Sooo I may or may not have just done a set at the @laughfactoryhw stay tuned.. more to come – @blakegriffin32 Instagram 
Smart, handsome, athletic and funny, how can you not like Blake?
According to FoxSports,
It was open mic night at The Laugh Factory, where thousands of comedians have tested their skills on Sunset Boulevard. There was a crowd of about 50 people on Tuesday, most of them trying to make it on the big stage. The opening act was a young guy in a T-shirt, khakis and a story about growing up in Montana.Then an older gentleman was joking about R-rated stuff that made you cringe . A younger guy, politely scolded for not checking in, who did a fun impersonation of girls getting ready to go out in Hollywood.And then, a surprise guest. Next on the list was Blake Griffin. Many seated in the audience looked around, wondering if that was THE Blake Griffin.Indeed, it was the 6-foot-10 Clippers star. Griffin had poetry to read, and it was a slam dunk for those in the small crowd. –  Continue Reading and watch lip of performance  here 
Who is Blake Griffin?
Blake Austin Griffin is a Haitian-American professional NBA basketball player who currently plays for the Los Angeles Clippers. Griffin had a renowned high school career at Oklahoma Christian School, winning state titles each of his four years under his father, head coach Tommy Griffin. He then played college basketball for the University of Oklahoma where he was named the Consensus National Player of the Year his sophomore season.
Griffin left college after two seasons to enter the 2009 NBA Draft; he was selected first overall by the Clippers. In his first season, he broke his left kneecap during the final pre-season game, had surgery, and missed the entire 2009–10 season. Griffin made his NBA debut as a rookie the following season, in which he was selected as an All-Star, won the 2011 NBA Slam Dunk Contest, and was named the NBA Rookie of the Year. In 2011, Sports Illustrated called him one of the NBA's 15 Greatest Rookies of All Time. Griffin's been an All-Star every season he has played and has helped make the Clippers perennial playoff contenders.
Griffin was born on March 16, 1989, in Oklahoma City, Oklahoma, to Tommy, who is of Afo-Haitian descent, and Gail Griffin, who is Caucasian. His father was a basketball center and track standout at NAIA Northwestern Oklahoma State University.Blake and his older brother, Taylor Griffin, were home-schooled by their mother from first grade until Taylor was in the tenth grade and Blake was in eighth. Growing up, Blake was good friends with Sam Bradford, who currently plays for the St. Louis Rams and played on the same Athletes First AAU basketball team with Xavier Henry, now with the Los Angeles Lakers.Bradford's father owned a gym where Blake and Taylor played basketball.Before deciding to focus on basketball, Blake also played baseball as a first baseman and football as a wide receiver, safety, and tight end.- Continue reading here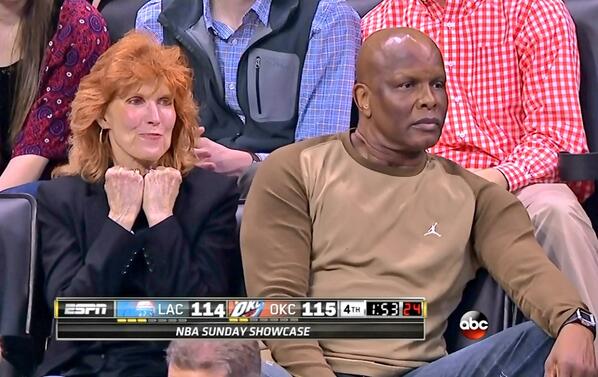 Here's a clip of Blake's slam poetry.