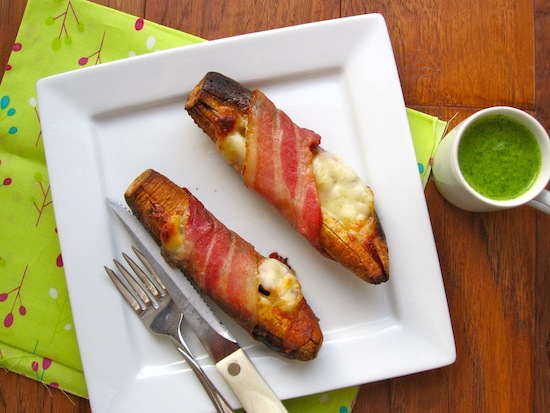 I love plantains and found this recipe which made my mouth melt and wanted to share it. Yes, its a Columbian dish, but i'm sure my Haitian community would love it just the same.
It is very easy to make and it is absolutely delicious. The sweetness of the ripe plantains is the perfect foil for smoked bacon and the fresh flavor of chimichurri. For this dish you need to use very ripe plantains. These beauties can be served hot from the oven, warm, or at room temperature. Serve it with fresh chimichurri or cilantro pesto.
Ingredients
(4 servings)
4 ripe plantains, whole
2 tablespoons melted butter
4 thick slices of queso blanco or mozzarella
4 bacon strips
Chimichurri or cilantro pesto to serve
Directions:
1. Preheat the oven to 400°, cut the ends of the plantains and peel.
2. Place them in a baking dish and brush with the butter, bake for 30 to 40 minutes.
3. Remove from the oven and slice the plantains lengthwise but not all the way through, stuff them with cheese slices and wrap with bacon.
4. Return to the oven and bake 10 more minutes until the cheese melts and the bacon is cooked.