Beautiful Haitian actress, model, author  and mother  Garcelle Beauvais posted this picture on Facebook Saturday with the caption "From Haiti to Hollywood. Dreams really do come true!" and as I logged in to post the picture, I just realized I haven't posted a formal biography of one of our favorite Haitian ambassadors. Reading her biography is truly inspiring, I hope her story will inspire you to keep dreaming because they do some true.

According to Starpulse:
Garcelle Beauvais was born in St. Marc, Haiti on Nov. 28, 1966 to father Axel Beauvais, an attorney, and mother, Marie Claire. After her parents' divorce, Marie Claire moved seven-year-old Garcelle and her six siblings stateside, to the chilly climes of Massachusetts. Initially suffering from massive culture shock, Beauvais, who did not speak a word of English, began to pick up the language from shows like "Sesame Street" (PBS, 1969- ), while her mother attended nursing school in an effort to provide for her children.
After several years at New England boarding schools, she and the family moved to Miami, FL, but within a year, the 17-year-old Beauvais traveled to New York City in order to pursue a modeling career. With her perfect blend of exoticism and classic beauty, it would not be long before she signed with the prestigious Ford Modeling Agency and began appearing in print campaigns for the likes of Avon and Mary Kay, on the runway for Calvin Klein, and on the covers of magazines like Ebony and Essence. Even before leaving Miami, Beauvais had begun to dabble in acting, with the tiniest of early appearances in the Florida-based, Michael Mann productions, "Miami Vice" (NBC, 1984-1990) and "Manhunter" (1986). Other early TV and film work included small turns in "The Cosby Show" (NBC, 1984-1992) and the Eddie Murphy comedy "Coming to America" (1988).

Before long, Beauvais made the full-time commitment to acting and the requisite move to Los Angeles. Then, in a case of fact being almost as strange as fiction, the fledgling thespian arranged to meet Aaron Spelling one day after having a dream in which she had a lengthy conversation with the legendary TV producer. Within in weeks of handing him her portfolio and résumé, Beauvais had been cast as one of the leads on the short-lived primetime soap "Models, Inc." (Fox, 1994-95).

After the series was cancelled, she studied at The Groundlings, the famed L.A.-based improvisation troupe, where she honed her comedic skills. Following a year of guest appearances on various shows, Beauvais landed another leading role on "The Jamie Foxx Show" (The WB, 1996-2001) opposite the future Oscar-winning headliner. Cast as Francesca 'Fancy' Monroe, she was the gorgeous co-worker who drove Foxx to distraction for all five seasons of the successful sitcom. Smart and sassy, Beauvais' character held her own against the talented comedian, endearing her to audiences and proving that her work with the Groundlings had been time well spent.  Continue Reading Here
Garcelle was married to producer Daniel Saunders, although their marriage ended in divorce, they had a son, Oliver Saunders, born in 1991.
Beauvais later married Mike Nilon, an agent working for the Creative Artists Agency, on May 12, 2001. Their twin sons, Jax Joseph and Jaid Thomas Nilon, were born on October 18, 2007, after a five-year struggle with infertility.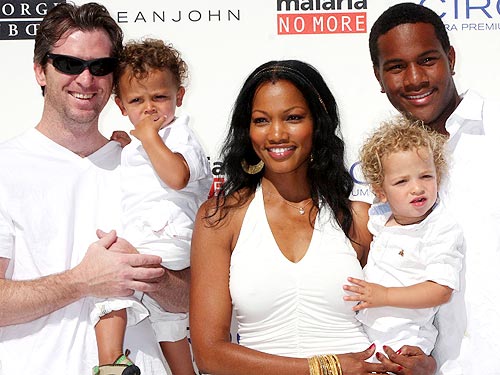 In April 2010, it was reported that Beauvais had discovered a five-year extramarital affair by Nilon. She reportedly outed him by sending his co-workers an email, the contents of which were leaked to the New York Post. Beauvais issued a statement on April 9, 2010, explaining that her "focus at this time is on my kids and healing the pain". Beauvais filed for divorce from Nilon on May 10, 2010, seeking joint custody of their sons.The couple's divorce was finalized on April 1, 2011.
Garcelle is also a very successful author. According to HuffingtonPost
When actress Garcelle Beauvais first arrived in Massachusetts from Haiti, it was the first time she felt different from those around her. "When I went to school, I was the only black child, and the kids would touch my skin and feel my hair because they hadn't seen someone like me," she told parenting site Elizabeth St. "I never thought of myself as different until then." Beauvais is drawing on that experience and that of raising three children, including bi-racial twin boys, in the first of a series of children's books entitled "I Am Mixed." "[The book] is an invaluable teaching tool that all children from all races can learn from," actress Halle Berry wrote in the foreword.

Like Beauvais' twins, "I Am Mixed" tells the story of siblings Jay and Nia as they explore the thoughts and emotions of being of mixed ethnicities. It's a topic Beauvais says she broached with her sons at a very young age — 2 1/2. "I didn't want them to be asked why is your mommy brown and daddy white and not have them understand it themselves," she said in an interview with Lifetime's celebrity parents blog. "I wanted them to know that they're the best parts of us put together. What I wanted most of all is for them to be proud of who they are and celebrate themselves."- Continue Reading Here.

Courtesy of Madamenoire