What an exciting Haitian Heritage Month its been so far. Aside from celebrating our beautiful culture, our Haitian Americans are  making headline and history.
On saturday,  Pierre Desir was selected by the Cleveland  Browns as their second cornerback of the 2014 NFL Draft.  Desir was  picked from Lindenwood University in the fourth round.
Thinking I was just going to write  about  Desir's journey to the NFL, I learned that this 23 year old young man is a married father of 2 whose overcome many challenges since leaving Haiti in 1994 to become one of our newest Haitian American football players to watch.
According to Cleveland.com
Haitian-born, Desir moved to the U.S. when he was four and spent youth playing soccer, the sport in which his father, Wilfrid, starred. But while playing football at two Mid-American Intercollegiate Athletic Association (MIAA) colleges  Washburn and Lindenwood  Desir showed natural ability and collected 25 career interceptions. Fluid, flexible mature athlete with wife and two children who dominated low level competition.  Pierre Desir knows that he's got a major climb ahead of him as he looks to transition from Lindenwood University to the NFL. Nobody who's played for the Lindenwood Lions in St. Charles, Mo., has ever done so, but the 6-foot-1, 198-pound cornerback knows that he has what it takes to make that jump. And at 23, he's already been though his share of challenges.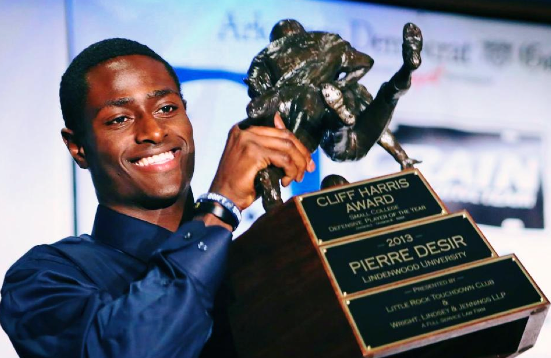 Desir was born in Port-Au-Prince, Haiti, and moved to the St. Louis area with his parents when he was 4 years old. His sport was soccer early on, and he didn't play football until his freshman year in high school. As it did for Ndamukong Suh, the footwork required in soccer helped Desir excel at his new sport, both as a receiver and cornerback. But issues with the college entrance exam got in the way, and though he was recruited by several bigger schools  "Mizzou, Kansas, Michigan State, Iowa, Illinois," he told me recently he chose Washburn University in Topeka, Kan.

After redshirting in 2008, Desir starred there for two seasons, and then had to sit out the 2011 season because he wanted to transfer, and the school wouldn't let him go. Which was a problem, as Desir had a perfectly good reason for wanting to do so. Two, in fact.

His daughters – now 3 and 7 years old — and the challenges inherent in raising a young family while trying to get an education and make your name in the middle of nowhere. It may have seemed at times that Desir would get lost in the shuffle, but he never allowed himself to. He looks at players like Jason Pierre Paul and Pierre Garcon and thinks of the possibilities for himself. Continue Reading Cleveland.com
On Fleeing Haiti in 1994:
Desir and his sister fled Haiti in 1994 with their parents Wilfrid and Marie Desir. According to Cleveland.com
In 1994, Wilfrid and Marie Desir applied for a visa to leave war-torn Port-au-Prince, Haiti, and bring their six-year-old daughter, Myriam, and four-year-old son, Pierre, to the United States, it was with the idea of seeking out the gilded American dream.

At the time, their country was in the midst of a bloody government coup, with Lieutenant General Raoul Cedras leading an overthrow of Jean-Bertrand Aristide, the first popularly elected president in Haitian history. According to a U.S. State Department report, "more than 3,000 men, women and children were murdered by or with the complicity of Haiti's then-coup regime."

Cedras led a campaign of torture, and thousands of Haitians fled for the U.S. "Cedras and his armed thugs have conducted a reign of terror, executing children, raping women, killing priests," President Bill Clinton said in a 1994 address to the nation. "As the dictators have grown more desperate, the atrocities have grown ever more brutal."

The Desirs' visa request was approved, and when Wilfrid went to the United States Embassy to fill out the final paperwork, he was told the family would fly to Miami (great!)—and then, a mysterious land of milk and honey by the name of, eh, St. Louis. "I never heard of it," says Wilfrid, a former professional soccer player who spent 10 years with Athletico Sports Club. "We knew no one there, and nothing about the area. But to come here was a blessing from God. I didn't complain."

In Port-au-Prince, the Desirs lived in a dilapidated single-floor apartment complex with a communal outhouse. ("The first time I saw a toilet was at the U.S. Embassy, when we had to provide a urine sample," says Myriam. "I was amazed.") In St. Louis, the Desirs lived in a dilapidated multifloor apartment complex on the city's south side—that, to America's newest imports, didn't seem dilapidated at all. "You're little, and everything is big and new," says Pierre.

"You don't know any better." Although the Desirs spoke only Creole, Wilfrid and Marie immediately went to work, holding an array of low-paying blue-collar jobs ranging from food preparation to maintenance to garbage disposal. "My first employment here, I made $7 an hour as a cook at Applebee's," says Wilfrid, his words wrapped in a thick Creole accent. "I held many positions. Applebee's cooks, Macaroni Grill cook, I cut grass Saturdays and Sundays."

"Everything was about education," says Marie, her accent even thicker. "We wanted our children to be educated so they could have better jobs than we did." –  Continue Reading Cleveland.com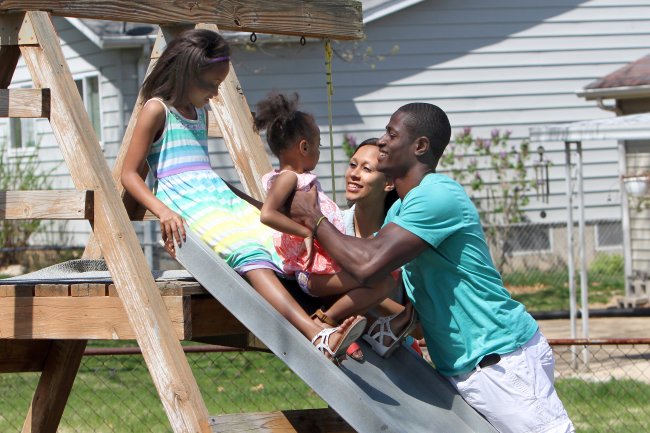 On becoming a 15 year old father  Bleacherreport,  reports:
"I was 16 when she was born," he says, quietly. "Fifteen when I found out I was going to be a father." It wasn't supposed to happen that way, of course. Really, is it ever? They met in the hallway.  Pierre Desir was a junior football and basketball star.  Morgan Julian was a junior dancer.  She had been a competitive dancer since age four—"jazz, hip-hop, ballet," she says. Morgan wasn't the type to go out with friends or get into trouble," says Christi Walker, her mother. "She was home all the time, either doing schoolwork or focused on dance. That's why I was so shocked …"

They dated for a couple of months. Two, maybe three. Simple stuff. Holding hands at lunch. Kissing. Things like that. "I knew Pierre, because he'd come over to the house a couple of times," says Walker. "He was a nice kid. But to say I was blown away by what happened, well, that's probably not strong enough."The pregnancy was unexpected for everyone. And upsetting. When Christi learned of the news, she hugged her daughter, went to bed and cried for two straight hours.

"Morgan was an accomplished dancer," she says, "and I feared this would get in the way of her future." Pierre waited three weeks to tell his parents. He was beginning to receive recruiting letters from Division I colleges. Michigan State. Kansas. Kansas State. "My dream was to play football," he says. "Then Morgan gets pregnant. I'm freaking out. What do I do?"
After telling his parents who were rightfully angry and disappointed , they eventually accepted it and embraced the pregnancy.
"I was livid, as was my father," says Myriam. "Even at 15, I knew he was so talented, and I couldn't wait to see what would come of it. He didn't make a wise choice. We were all hurt, and shocked. We needed time to soak it all in." Over the ensuing nine months, anger morphed into acceptance, and acceptance into embracement.

In Oct. 10, 2010 Kamryn Desir, Pierre and Morgan's second daughter, was born.

In February  2012, following Keeli's fourth birthday party at a children's entertainment center called Pump It Up, Pierre shocked Morgan by approaching with a wedding ring as her cousin, Lacee Ames, held aloft a sign that read, "WILL YOU MARRY ME?" – Read Full  Story Here