A couple a days ago, I wrote about the financial struggles of our Haitian women soccer team and their hope of raising enough money to try out for the women's world cup. When I read this story this morning, I was very surprise to hear the few dollars the team recently raised were turned over to help the Trinidad and Tobago team. What an amazing and selfless act by the team.
My mother always said, be humble and giving and you will forever be blessed.
That's exactly what occurred in this situation because this act of kindness from the Haitian women caught the attention of the Clinton administration who have agreed to support the women's program.
According to NewYorkTimes
Upon hearing that the Trinidad and Tobago women's national soccer team might not even have enough money to buy lunch, Haiti's team took a look at its fund-raising for World Cup qualifying — an account totaling a little over $1,300 — and decided to turn it over to the competition.

That left Haiti with an uncertain future of its own. Until the Clintons got involved.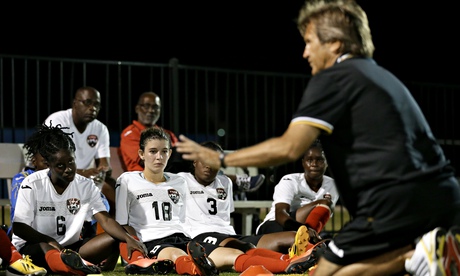 Trinidad and Tobago and Haiti are both training for next week's Concacaf championship, which serves as qualifying for the Women's World Cup next year in Canada. Haiti will open the eight-team tournament Wednesday against Guatemala in Kansas City, Kan., while Trinidad and Tobago will face the top-ranked United States women's team.

On Wednesday, Trinidad and Tobago's coach, Randy Waldrum, issued an urgent plea on Twitter.

His posts went viral quickly. The soccer website KeeperNotes.com reached out to Waldrum. By Wednesday night it had collected just over $9,300 for the team via a PayPal account. Jen Cooper, who runs KeeperNotes, said that because of the overwhelming response the site had to stop taking donations because of tax implications.

Haiti's team also heard Waldrum's plea from its training camp in South Bend, Ind. The team had been running on donations and money raised from T-shirt sales and other fund-raising. It had $1,316 in its account. The team, which has had its own financial struggles, decided to give it all to Trinidad and Tobago.

"My players saw on social media the difficulties faced by T&T players and approached me about what can we do to help. I was stunned," Haiti Coach Shek Borkowski said in announcing the donation on the team's Facebook page. "They were very animated about helping so I will do as they asked."

That's when Borkowski heard bombshell news: Haiti's soccer federation received a call from the Clinton Foundation, the charitable organization run by former President Bill Clinton and his family, saying it wanted to support the women's program. – Read Full Article Here