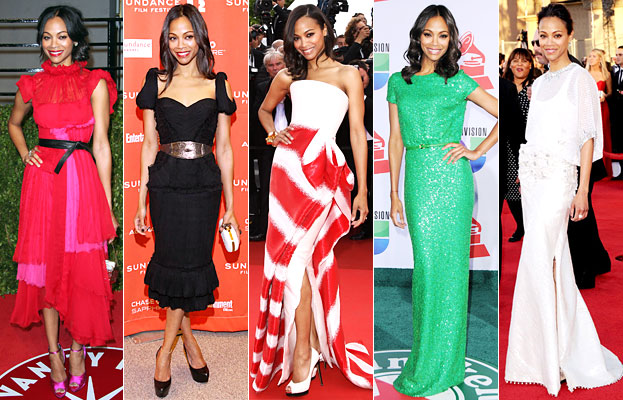 I had no idea one of my favorite actress and Columbiana star Zoe Saldana is of Haitian decent.
The actress who is currently pregnant with twins is often described as  Dominican or American, but in her recent commercial for beauty brand L'oreal, her background is described as Dominican, Haitian, Puerto Rican and Lebanese .
Since I don't know whether or not she's mentioned it before, I certainly just learned something new about her.
Two years ago, in an article posted by Urban Bush Babes, they posted an excerpt of an interview where Zoe explained her frustration with people in the Dominican republic questioning whether she's Dominican or American.
"When I go to the D.R., the press in Santo Domingo always asks, "¿Qué te consideras, dominicana o americana?" (What do you consider yourself, Dominican or American?) I don't understand it, and it's the same people asking the same question. So I say, time and time again, "Yo soy una mujer negra." ("I am a black woman.") [They go,] "Oh, no, tú eres trigueñita." ("Oh no, you are 'dark skinned'") I'm like, "No! Let's get it straight, yo soy una mujer negra." ("I am a black woman)."
And According to Wiki,
Zoe Yadira Saldaña Nazario known as Zoë Saldana or Zoe Saldana, is an American actress and dancer.  Saldana was born in Passaic, New Jersey. Her father, Aridio Saldaña, was from the Dominican Republic, and her mother, Asalia Nazario, is from Puerto Rico.She has often spoken of her pride in being from a Latin culture.

She also has Haitian and Lebanese roots. Her first languages are English and Spanish. She spent the majority of her early childhood growing up in Jackson Heights, Queens, New York. She has two sisters, named Cisely and Mariel. Her father died in a car accident when she was nine years old, and Saldaña and her mother subsequently moved to the Dominican Republic.The family returned to Queens after her sophomore year in high school. – Continue Reading Here